SACRAMENTO (May 21, 2016) — Bryan Smith made it six in a row at Cal Expo's Sacramento Mile Saturday night. Smith led from flag to flag on his Kawasaki, but was challenged to the very end by Harley-Davidson mounted Kenny Coolbeth Jr., of Center Hill, Florida. The margin of victory at the end of the 25-lap national was 0.024 seconds, or about a wheel length. Salinas, California's Stevie Bonsey finished third on his Harley-Davidson, matching his best result of the season.
Smith, of Flint, Mich., has won every race at Cal Expo since the AMA Pro motorcycle event returned to the mile oval after a 12-year hiatus in 2011.
Smith started from the pole and led all 25 laps of the main event. He held off the former national champ Kenny Coolbeth, Jr., in a thrilling finish.
Factory Harley-Davidson rider Brad Baker was the only rider even able to briefly pass Smith. Just past halfway Baker made a move by Smith into turn three, but his bike had a mechanical issue just an instant later coming out of four.
"I felt the pressure and then Brad went by me," Smith said. "And then his bike blew up and I about ran into him."
Smith had to overcome faded brakes on his motorcycle in the closing laps. The rear brake disc on his Kawasaki was glowing red from overheating.
"With about three to go I went into turn one and no brakes," Smith explained. "That was a real nail biter the last few laps. I was lucky Kenny didn't run me over in the turns."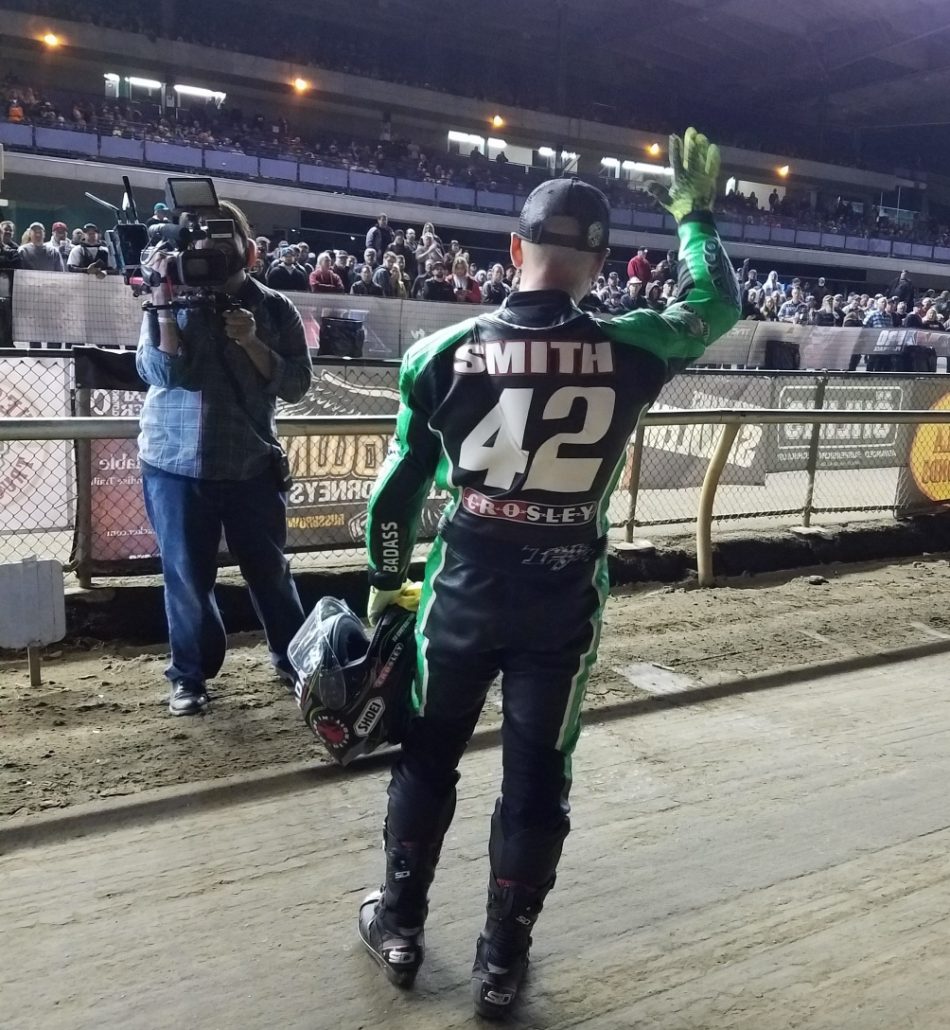 Bryan Smith, of Flint, Michigan, waves to the crowd at Cal Expo, just before winning his sixth consecutive Sacramento Mile
Saturday

night. (Larry Lawrence photo)

Defending series champ Jared Mees had issues with his machine and finished 14th.

With the victory Smith took over the points lead after five rounds of the 14-race AMA Pro Flat Track National Championship. He now leads by two points (86-84) over Sammy Halbert, of Graham, Washington. Jake Johnson, of Coatesville, Pennsylvania, is ranked third in the standings with 77 points after finishing fifth.

Bonsey, in third, was the top finishing Californian. Briar Bauman (Salinas) was sixth, Nick Armstrong (Norco) 11th and Kayl Kolkman (Ventura) 18th.

Tristan Avery, of Chesterfield, VA, won the GNC2 support race.

Results of the Sacramento Mile, AMA Pro Flat Track Race, Cal Expo, Sacramento, CA – May 22, 2016
1.  Bryan Smith, Swartz Creek, MI, Kawasaki Ninja 650
2.  Kenny Coolbeth, Jr., Center Hill, FL, Harley-Davidson 750
3.  Stevie Bonsey, Salinas, CA, Harley-Davidson 750
4.  Jarod Vanderkooi ,Mt Gilead, OH, Kawasaki Ninja 650
5.  Jake Johnson, Coatesville, PA, Harley-Davidson 750
6.  Briar Bauman, Salinas, CA, Kawasaki Ninja 650
7.  Henry Wiles, Winn, MI, Kawasaki Ninja 650
8.  Sammy Halbert, Graham, WA, Harley-Davidson 750
9.  Cory Texter, Willow Street, PA, Kawasaki Ninja 650
10. Shawn Baer, Bethel, PA, KTM LC8 950
11. Nick Armstrong, Norco, CA, Yamaha FZ07
12. Jeffrey Carver Jr., Alton, IL, Kawasaki Ninja
13. Jake Shoemaker, Glenmoore, PA, Triumph Bonneville
14. Jared Mees Clio, MI Harley-Davidson 750
15. Brad Baker, Eatonville, WA, Harley-Davidson 750
16. Brandon Robinson, Oxford, PA, Kawasaki 740
17. Davis Fisher, Warren, OR, Harley-Davidson 750
18. Kayl Kolkman, Ventura, CA, Kawasaki Ninja 650