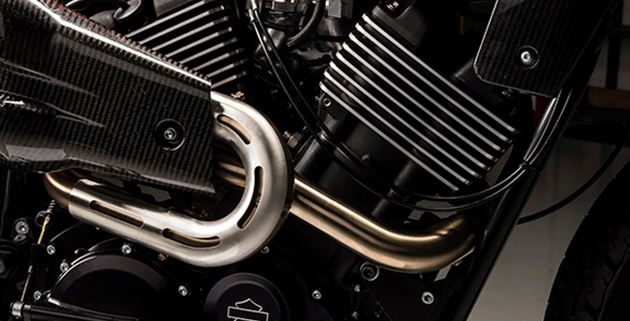 From Roadracing World –
MILWAUKEE – Fast, liquid-cooled and with big shoes to fill: The Harley-Davidson® XG750R motorcycle will be the only bike raced by the Harley-Davidson® Factory Flat Track Racing Team in 2017. The new flat-tracker will replace the Harley-Davidson® XR750, the most successful flat-track racing motorcycle of all time.
The Harley-Davidson Factory Team will contest the 2017 American Flat Track (ATF) racing series and ESPN's X Games Minneapolis Harley-Davidson® Flat Track Racing event exclusively aboard the XG750R bikes. The racing season opens during Daytona Bike Week at the March 16 ATF Daytona TT on a new circuit featuring a jump to be constructed inside Daytona International Speedway in Daytona Beach, Florida.
"There is extraordinary energy building behind the new American Flat Track series and after decades of XR750 dominance, it's time to bring a new level of performance and technology to the track with the Harley-Davidson XG750R," said Harley-Davidson Vice President and Managing Director U.S. Mike Kennedy. "The new Daytona TT promises to be a thrilling event. If you are in Daytona for Bike Week, ride to the race and help the Factory Team kick off an exciting season."